Merrill Marketing/Communications — San Diego Public Relations Agency
Paradigm Mobile Marketing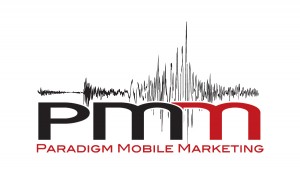 Join The Paradigm Shift in Marketing & Communications
Why Mobile Marketing?
"Statistics show that 97% of ALL text messages are opened, and 95% of those text messages are read within the first 3 minutes".
"Think about your own text messages. How many UN-Opened text messages do you have on your phone right now?"
• In 2008, there were 228.2 million mobile phone users in the United States, representing 75% of the population. In 2009, those numbers grew to 239.1 million, representing 77.8 percent.
• This year, eMarketer projects 246.1 million U.S. mobile phone users, 79.3 percent of the population, and expects those numbers to grow to 250.9 million (80.1 percent) in 2011.
• Among U.S. mobile phone users, in May 2010, 65.2% sent a text message to another phone, 31.9 percent used their phone's browser, 30 percent used/downloaded applications, 22.5% played mobile games and 20.8 percent accessed a social networking site or blog.
• U.S. mobile advertising spending will reach $743 million this year, up a whopping 79% from $416 million the year prior. Mobile spending will cross the $1 billion mark in 2011 with sustained growth, though at slower rates. SMS messaging is still the largest ad format in mobile, projected to hit $327 million this year.
Industries We Serve:
• Corporate Meetings and Events
• Conventions, Trade Shows and Seminars
• Hotels and restaurants
• Sports companies and Amateur and Professional Teams
• Entertainment
• Automotive
What is SMS?
One aspect of Mobile Marketing is SMS (short message service). SMS is one of the easiest and most cost-effective ways to reach the ever- growing base of potential customers that receive communication on their mobile devices. Most of us are familiar with SMS but know it by its more common name, "texting". SMS is a method of sending a short text message from one wireless device to another, or from a computer to one or more mobile devices.
SMS is most widely used for personal communications. But in recent years SMS has become a way for businesses to communicate with potential and current customers, and for a variety of community-building activities.
What are the benefits of using SMS for business purposes?
Companies large and small – Marriott Hotels, Coca-Cola, Domino's Pizza as well as local businesses – are reporting impressive Mobile Marketing revenues. From new customer acquisition to ongoing customer retention programs, SMS is a way to reach a target audience in a timely and effective manner. Mobile Marketing can be an important element to a successful integrated marketing campaign. And it's a great way to create an ongoing dialogue with your audience.
Mobile Marketing is low-cost, high-impact, quick – and easy to deploy.
Mobile marketing has become one of the popular and viable marketing strategies for businesses to enhance their market opportunities. Mobile marketing is highly interactive, measurable, personalized, and cost-effective. The features of mobile marketing are helping many organizations to reach their target audience more effectively. Since mobile phones are personal devices, marketing through them will help an organization to communicate with their customer directly without constraints like time and place. Mobile marketing allows organizations to segment customers demographically and target them on a one-to-one basis.
Better ROI
Unlike many traditional forms of marketing, mobile marketing enables the marketer to interact directly with their customers. Since it is a one-to-one way of communication, it is feasible for the marketer to target psychographically who are likely to become prospective customers. Consequently, it saves money and time from investing on irrelevant set of audience. Mobile marketing also allows the marketer to track the message delivery rate, response rate, and sales conversion rate of his campaign. These attributes of mobile marketing help organizations to enhance their ROI.
Cost
With the increased competition among businesses in recent times, it has become essential for an organization to adopt an effective marketing strategy to stand out from the competition. At the same time, it is not feasible to allocate a hefty amount of budget for marketing itself. In these circumstances, mobile marketing enables the marketer to reach to a wide range of audience affordably, compared to many other traditional ways of marketing.
Diversity
To attain a remarkable success in the marketing campaign it is not feasible to adopt a strategy that cannot comply with the diverse range of customers. Many traditional marketing strategies do not have the required potential to communicate the brand message of the organization effectively, to the diverse range of targeted audience. The suppleness and comprehensiveness of mobile marketing enables it to reach to a broader and diverse range of audience more effectively than other traditional marketing methods.
Consumer Response
Mobile marketing enables the marketer to reach to a wide number of audiences directly within a short span of time. Thus, the marketer is likely to increase his response rate, compared to many other marketing strategies. The personal approach of mobile marketing results in increased consumer response and sales conversion rates.
Potential for viral marketing
Mobile users are very likely to forward useful and important messages within their groups. It is easy and effective way to share valuable information. Since, this feature of mobile phones is compliant with the mobile marketing; it has very high potential of boosting the viral marketing.
Mobile marketing is also easy to operate, compared to many other marketing strategies. Since mobile marketing is measurable and inexpensive, it enables the marketer to reduce the risks of business investment on a marketing campaign to a significant level.
Paradigm Mobile Marketing Solutions:

SMS — SMS (Short Message Service) or text messaging has become one of the most predominant forms of communication today due to the high penetration of users. Of the approximately 275 million mobile subscribers in the US, 213 million, or 78% use text messaging. This means more people have a mobile phone than have PC-based Internet access. Overall, 53 percent of those engaging with free (standard rate) short codes, such as those used by brands in marketing, are sent by texters 35 and older. SMS text messaging is a global media opportunity with all languages supported by Unicode, including Arabic, Chinese and Japanese.
• Text to Subscribe: From mobile alerts to news and announcements, when you have information that your audience is hungry for, a subscription solution could be right for you. Brands can enlist subscribers by making a compelling offer to provide consumers with timely, relevant information, such as special sales events, coupons or new product announcements.
• Text to Win: Enter-to-win contests are one of the most effective ways to entice consumers to opt-in to receive SMS messages from you. Through our platform, you can name the campaign and assign the keyword and then control the messages, the odds of winning and the number of entries among other things.
Mobile Web — Mobile Internet or WAP (Wireless Application Protocol) is all about Internet access from mobile devices, which continues to improve with each new generation of mobile phones. The significance is that our mobile phones are something we take with us where ever we go, unlike our computers, and that opens huge new possibilities for mobile marketing.
Mobile Coupons — Digital Mobile Coupons are an excellent way to engage and capture new mobile customers. Coupons can be used by major brands, retailers and entertainment attractions as part of a sales promotion for redemption at store or online. There are many types of coupons, such as discounts, free offers, multiple-purchase, time-release, or universal. Coupons can take several forms, such as text (SMS), graphically rich (MMS), or as a barcode (2D, UPC or UCC).